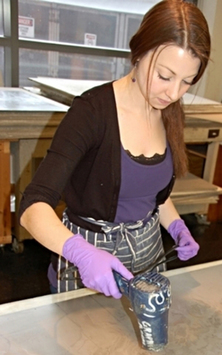 LAUREN BENNETT
is an artist who lives in the Pioneer Valley of Western Massachusetts. Her work engages notions of environment, memory, and ephemerality through the transformation of amorphous materials. Using light and time as both the narrative elements and the physical components to cultivate images, she creates solar prints with nontoxic light sensitive dyes. Through a synthesis of digital, photographic, printmaking, and painting based processes her hybrid solar prints knit together the past and the present. Drawing inspiration from an abandoned house and its decaying accumulation, the hauntingly luminous debris of everyday life reflects a preoccupation with impermanence and mortality.
Lauren is an active member of a collaborative research team for sustainable printmaking that has participated in demonstrations at many Southern Graphics Conference International events, and she was a contributing artist and research assistant for the 2012 textbook,
Printmaking Revolution: New Advancements in Technology, Safety, and Sustainability.
She earned her BFA in 2005 from the Hartford Art School and
her MFA
in 2016
from
the University of Massachusetts Amherst.